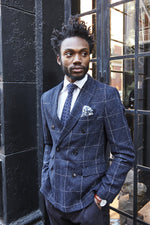 4 ways to pair a tie this spring

We get it. Finding the right tie can be rough sometimes. Different occasions call for different combinations. For those tricky occasions, we've got you covered. Here are some ideas to get you inspired. 
1. Safe, but not too safe. 
Pair a solid shirt with a contrasting solid tie for a low-risk look that works in any situation. However, using a contrasting color combination keeps things interesting and fresh.
2. Keep it in check.
Check shirts are some of the most versatile shirts, but due to their high contrasting patterns, we recommend a tie with a larger pattern to avoid feeling overwhelmed. 

3. It's (business) casual.
We love a good chambray or denim shirt for on-the-go guys who like to keep it casual but put-together. For tactile shirts with texture, play around with your tie's texture with a knitted tie. 
4. Be a daredevil. 
In fashion, the biggest rule is to be yourself, and if you're someone who likes to create the rules instead of following them, you should dress the same. Experiment and have fun!